In the typical metal finishing operation, as much as much as 90% of the finishing solution is lost during the rinse process. The resulting wastewater represents not only a reduction in profit, it also represents a real environmental issue that invites scrutiny from city, county, and state environmental agencies. La Habra Welding has the answer the Solution Recovery Master (SRM).
The SRM offers a unique concept that recovers spent plating solutions or chemicals from rinse water. The recovered solution is concentrated in the SRM unit and because the process has no effect on the basic chemistry of the solution it can be potentially recycled. An added benefit of the SRM is that it generates D.I. water, which can be reused in rinse operations. Regardless, the SRM reduces the load on conventional treatment systems, which represents a substantial savings in chemical costs.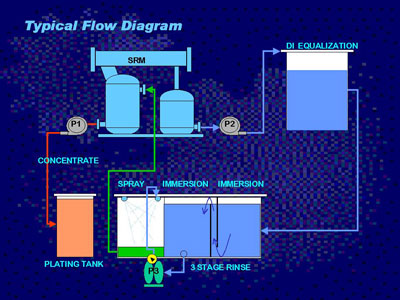 After the work leaves the metal finishing solution it is spray rinse and immersed through a double counter flow rinse water system to ensure through rinsing (note that the rinse operation utilizes primarily recycled D.I. water). Wastewater, collected from the spray rinse process is monitored by the SRM programmable logic controller (PLC). When the PLC determines that a specific amount of wastewater has been collected for processing, the Solution Recovery Master initiates its process automatically, requiring no operator intervention. After the process is complete the SRM PLC transfers the D.I. water to a holding tank that feeds the rinse water system. Solution concentrate is stored in the SRM until the operator initiates a transfer. It is important to know that that the low processing temperature utilized during this operation ensures that the basic chemistry of the solution is not affected, and also minimizes the energy required to operate the SRM.
Lets talk about how the Solution Recovery Master can help your operation.
---
11/10/06 12:58 PM